Microdermabrasion Before and After Results
A picture speaks a thousand words, see the results achieved by SkinBase therapists with a course of SkinBase™ microdermabrasion treatments…
Winner of Best Advanced Treatment for 2 years running at the National Beauty awards, SkinBase microdermabrasion is a firm favourite with salons thanks to the fantastic results. During microdermabrasion, the crystals gently exfoliate the outermost layers of skin to remove blemishes, diminish fine lines and rejuvenate the skin. Studies have shown the improvements can even be seen in the deeper layers of the skin (dermis) giving fantastic results over a course of treatments. Take a look below at just a few of the results from SkinBase courses in these fantastic transformations.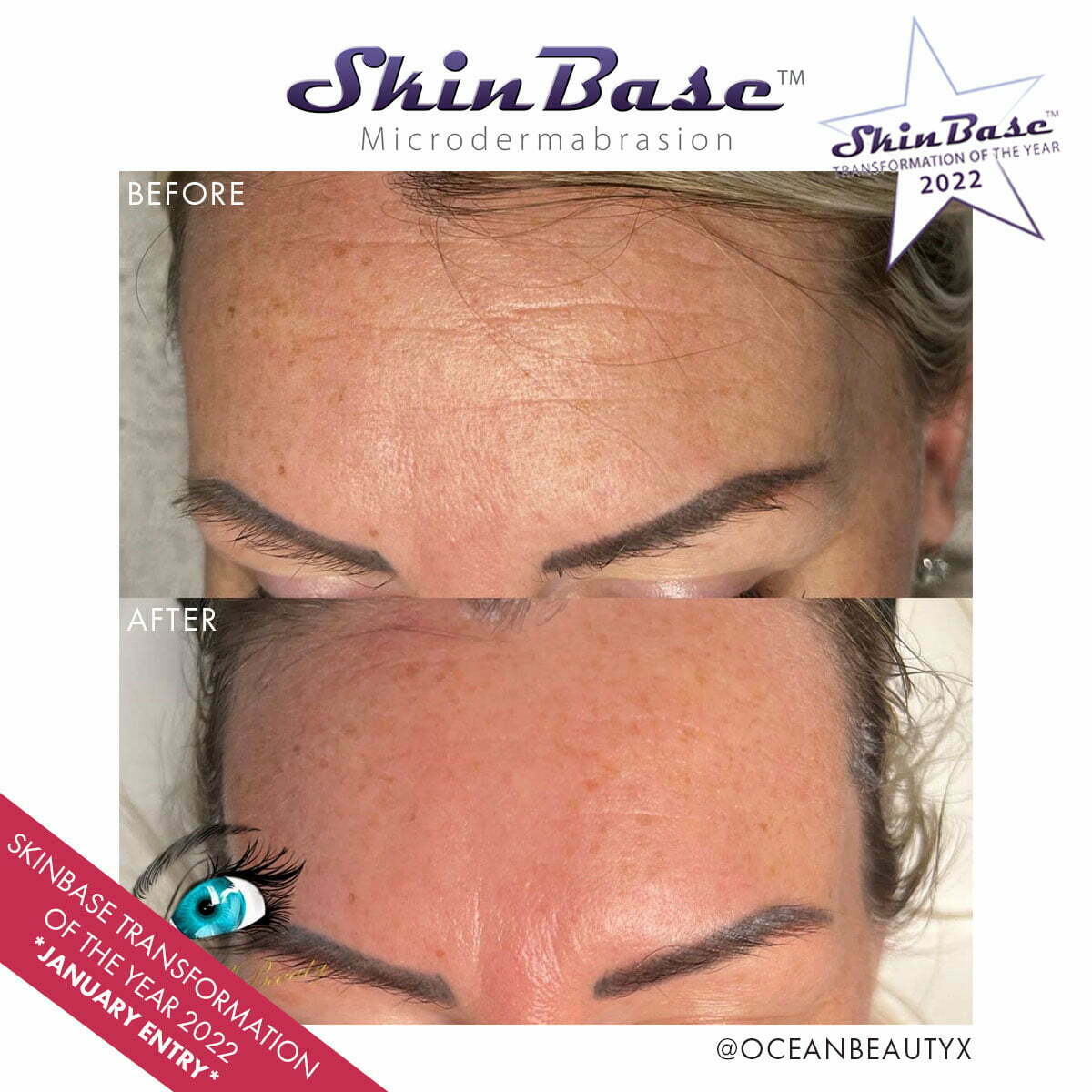 "Booked in with Ocean for course of 6 MD, I wasn't too sure what to expect at first, a fancy new treatment to try – but WOW! My skin looks and feels amazing, I'm not one to wear make up everyday (busy mum life) but would always feel conscious when I didn't, now I don't have to! The glow is unreal! And to top it off Ocean is such a lovely person, she makes you feel so comfortable!"
" It makes me so happy having these treatments, it's like a miracle! My skin is so much more lighter and they no longer look like bruises, my mum is really happy too and lots of people have noticed, I'm well pleased, I can't believe it! It's just an amazing feeling not waking up stressing I look like I've got black eyes, really was depressing me can't wait to carry on the treatment! " 
"It is safe to say, it was the best investment I have EVER made. Sarah explained the treatment in so much detail and her passion for the treatment filled me so much confidence – I couldn't resist but try! 
From just the first treatment, I felt the benefits of Microdermabrasion. My skin felt smoother, clearer & brighter! And it just got better and better each week. I still continue to visit Hidden Beauty for a monthly Microdermabrasion facial to help keep my skin feeling it's very best. 
I highly recommend this facial! Before beginning my skincare journey, I wouldn't leave the house without any make up on but now I can go out proudly makeup free!"
 "I contacted Charlotte after I saw an advertisement of Microdermabrasion to see if it would work for the areas I'm looking for. I have always struggled with acne since the age of 12 and tried all sorts of treatments spending £1000s and nothing worked. Charlotte explained all the treatment and how it worked and I thought why not give it a go! Wow I did not expect to see the results I got- my acne scars I don't even notice anymore my skin is brighter and clearer and I just feel so much more confident. I can't thank Charlotte enough for what she did as it really made a difference." 
Request Your Free 2 Week Trial
SkinBase™ is the UK's leading provider of professional beauty machines. Over 2,000 accredited salons and spas in the UK & Ireland can't be wrong! Our team of professionals are looking forward to speaking with you.