The votes were counted, and the winning June Transformations were crowned for the Public Choice and Therapist Choice Awards. Let's look at the entries that accumulated the most votes to see how transformational the SkinBase treatments can be.
Skin Tip
With over 250 public votes, this entry is a brilliant example of how IPL is more than just a hair removal treatment. IPL Advanced provides incredible skincare results for your clients. Beatrice at Skin Tip used a combination of IPL Rejuvenation and IPL Vascular Treatments to treat her client's problematic skin. After having little success treating her rosacea, thread veins, sun damage and acne scarring, she had resorted to covering up with make-up. If you want to offer SkinBase IPL or IPL Advanced, get in touch today!
The successful IPL treatments have transformed the client's skin and boosted her confidence. After only six treatments, the improvement in her skin tone, texture, and redness is astonishing. Her skin has never looked so good, and she wears minimal make-up due to her increased self confidence. Prior to the treatments, the client was hopeful, but not optimistic. If you've have clients looking for a new treatment, give SkinBase a go today!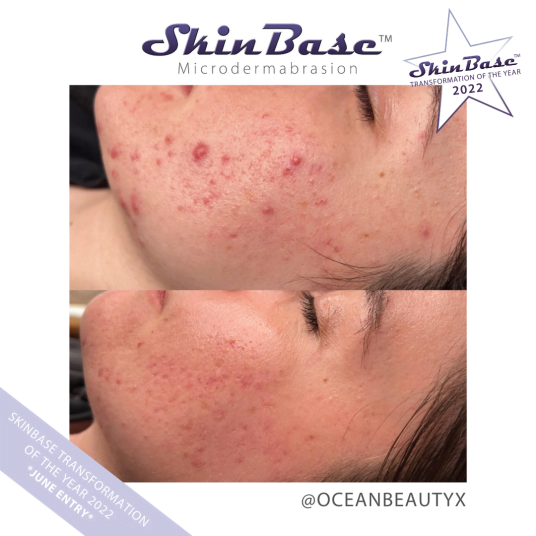 Microdermabrasion Transformation
Ocean Beauty
Our award-winning microdermabrasion treatment continuously achieves fantastic results treating various skin conditions. Ocean's client has suffered from acne for most of her life and was looking for a treatment to help her skin. The client's skin is smoother, her acne is minimised and there are visible improvements after 18 microdermabrasion sessions. She feels comfortable not layering up in make-up and is incredibly pleased. It's no surprise that over 90 people voted for this transformation in the public vote.
As well as performing treatments, SkinBase therapists can also help tailor their care to your specific skin-type and recommend products that will enhance your results. Ocean cares, is attentive, and gave recommendations for skincare so the client is very pleased. The SkinBase skincare range is perfectly paired with the SkinBase treatment courses, and can be found in the shop here.
Collagen Lift
Katherine Monique Beauty
A June favourite in the SkinBase Therapist Group was this fantastic Collagen Lift transformation by Kathryn Monique Beauty. SkinBase treatments are more than just a facial. Kat's client moaning about her arms often and decided to do something about it. She treated herself to six sessions to try and see an improvement in the wrinkles on her upper arm. The results wowed the client, as her arms were visibly smoother, her wrinkles less noticeable, and her skin smoother.
As well as loving the results, she loved the relaxation of the treatments, and how attentive her SkinBase therapist was to her needs. If you want to transform yourself with a pampering course of treatment, find your nearest SkinBase therapist now. It's easy to get involved – with over 2200 therapists in the UK, Ireland and the rest of the world, you can be one too.