It is June and the SkinBase Transformation of the Year competition is over half way through. We have just crowned our May winners so it is the perfect time to recap some of our favourite entries this year. If you haven't entered yet – what are you waiting for? Take a look at some of the previous transformations and then get your own in for June.
January Recap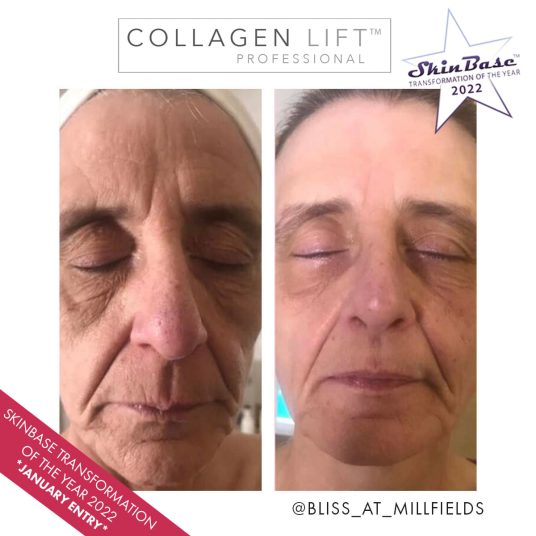 Bliss at Millfields
Face Collagen Lift
In January, Bliss at Millfields entered this fabulous Collagen Lift transformation. With six treatments of Collagen Lift, one Microdermabrasion and an investment into a new skincare routine and healthy habits the client and therapist were able to achieve some fantastic results together. The testimonial truly showed the importance of skincare as healthcare, and brought a tear to our eyes! Here's what the client had to say:
"At 54 my skin was ravaged from years of alcohol addiction and domestic abuse. I'm now sober, abstinent and in recovery with a new and much happier life – yet every time I looked in a mirror I was reminded of bad times, and what I had done to myself. It was affecting my self- esteem and confidence in my appearance. I can't tell you the difference this treatment has made to me, both physically and mentally. It has lifted, firmed and plumped out my skin – I look like me again! Sharon is very professional, easy to talk to and made me feel so comfortable. Every session was a little bit of 'me time' I looked forward to and the results are just amazing!"
If you want to change the lives of your clients too, find out more about offering Collagen Lift.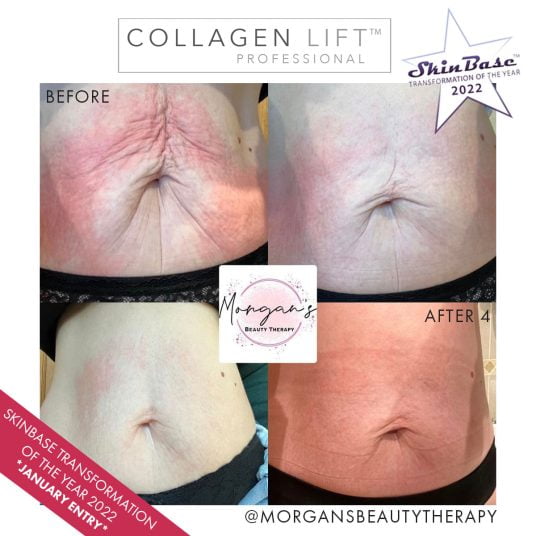 Morgan's Beauty Therapy
Body Collagen Lift
The worthy winner of the Therapist vote in January went to Morgan's Beauty Therapy with another Collagen Lift transformation. This time, showing how effective the treatment is when used on the body. The client had four Collagen Lift treatments on the tummy with the aim of tightening and firming skin. Exercise, dieting and other treatments were ineffective and her confidence was very low. Despite being sceptical, the client is highly impressed and shocked at how much difference it the treatment has made already. The skin is fire, the wrinkles have lessened and she has had a big confidence boost.

Sian Cleak
IPL Acne
"There has got to be something I can do about this…" 
This is what the client was thinking about his acne when he came across Sian Cleak and The SkinBase IPL treatment. Another sceptic, the client was not sure that the treatment would work, since nothing else had, but gave it a go anyway. He is so glad that he did. After 8 sessions of IPL Acne treatment the clients skin has transformed from an "inexplicable mess" into an "exquisite piece" that he is proud of. Sian watched her client's confidence and trust grow with each session as he changed up his skincare routine and diet with her advice. Now his skin is the best it has ever been thanks to Sian and The SkinBase IPL treatment. 
If you're already treating clients with IPL Hair Reduction, enquire now about IPL Advanced Training.

Skindeep
IPL Hair
In May another fantastic IPL transformation was entered, this time showing how effective the IPL hair reduction treatment is. Vanessa at the Skindeep clinic treated her client with three IPL Hair Reduction treatments and she is overjoyed with the results. Here is her fantastic testimonial, showing the impact that SkinBase treatments can have.
"From a young age body hair has been the bane of my life. I was always ashamed as it was course and dark. For years I have been waxing as living in a small coastal town I had no other option. Until I learned of skin-deep clinic that provide treatments like IPL hair reduction. Many people were referring me to a lady called Vanessa and spoke so highly of her. After over a year of knowing her, I understand why. From the moment I met her she was so lovely, welcoming and professional. These photos were taken 11 weeks apart and with each month that passes I feel more and more confident in my own skin."
"I'm truly amazed by the results that just keep giving! I owe a huge thank you Vanessa for not only being my therapist but a friend. We always have a laugh, I look forward to my sessions and catching up with her. It's crazy how a treatment like IPL can change a life but it genuinely has made my life so much better. It as been the best investment for myself as I am no longer insecure about my body hair. I can wear and do whatever I want whenever I want without having the worries of "is my hair on show", or "do I need to shave" and that is truly empowering to me." 
Do you also want to empower your clients and remove unwanted body hair? Find out more about IPL now!

Bella Vita
Face Microdermabrasion
Going back to April, the SkinBase therapists chose a fantastic Microdermabrasion transformation from Bella Vita as their winner. Vikki's client had 12 Microdermabrasion sessions and was over the moon with her results. As you can see, her skin looks smoother and her lines are visibly less defined. The client noted her skin felt softer, and she will continue with maintenance to keep her new complexion. A fantastic monthly winner that has been entered in the draw for December, to win a Caribbean holiday! Do you also want to win a Caribbean Holiday? It's not too late, enter the SkinBase Transformation of the Year Competition now. 

Wellness Clinic
Feet Microdermabrasion
The Award winning SkinBase Microdermabrasion treatment is not only good for the face. In January, Hayley at the Wellness Clinic entered this fabulous foot transformation after 8 Microdermabrasion sessions with her client. The treatments combined with strict home-care meant Hayley was able to achieve unimaginable results that surpassed her client's expectations. Microdermabrasion is a great way to level up your pedicures and keep client's feet smooth all year round.