It's the third week of May and the last week to get your entries in to win. The competition is closing early this month because of the Queen's Jubilee bank holiday, so don't miss out! We've had some amazing entries so far, and we love seeing them. Remember, we are here to help, so don't hesitate to get in touch with any questions you might have, and keep the entries coming. If you're not a therapist and want to be involved, become one today. 
May Entries
Here are some of the fantastic Collagen Lift entries in the running to be crowned the best SkinBase Transformation for May. Remember the prizes include £500 in vouchers and the SkinBase Caribbean holiday.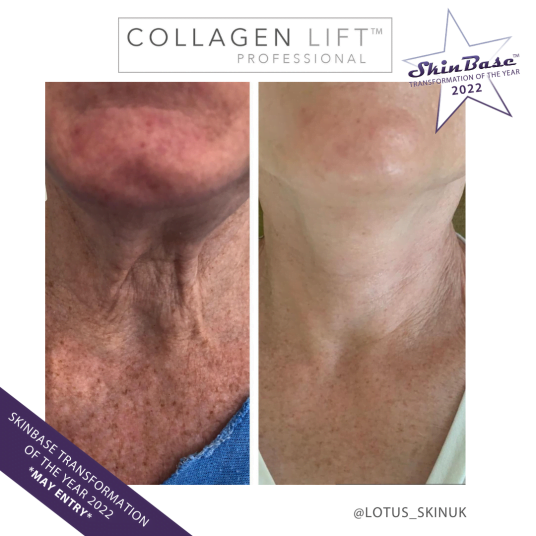 Lotus Skin UK 
6 Treatment Course of Collagen Lift
An incredible neck transformation and a brilliant testimonial about the Therapist and the treatment to go along with it, from Lotus Skin UK:
"Honestly I booked this Collagen Lift treatment as a last resort before seriously considering plastic surgery on my neck. I have been conscious for the last few years about my neck and have been covering it with scarves or high necklines. My expectations of results were very low after trying numerous expensive treatments none of which showed much improvement to the sagging skin on my neck. Michelle explained how it would work and what I could expect." 
"It's a lovely warm treatment and I could see a difference after the first one. After having six session of Collagen Lift I honestly cannot believe the results. Not only has this treatment tightened the skin on my neck it has also completely changed the texture and tone. Now I have skin that glows and my neck looks 20 years younger. Even my husband, who notices nothing, asked the question "what have you done to your face and neck?" I have to say from one serious converted sceptic, please don't waste your money on other treatments you HAVE to try the Collagen Lift it is truly AMAZING" 
Estheva Clinic entered this fabulous face and neck Collagen Lift transformation for May. The client has completed 4 of 6 Collagen Lift treatments and has already achieved such brilliant results. The client was very nervous about the treatment, but her SkinBase therapist was friendly and knowledgeable and put her at ease. Since turning 50, the client has had a lack of confidence and felt her skin was looking old and tired so she needed a boost. She is thrilled with the changes already, and can't wait to see the results.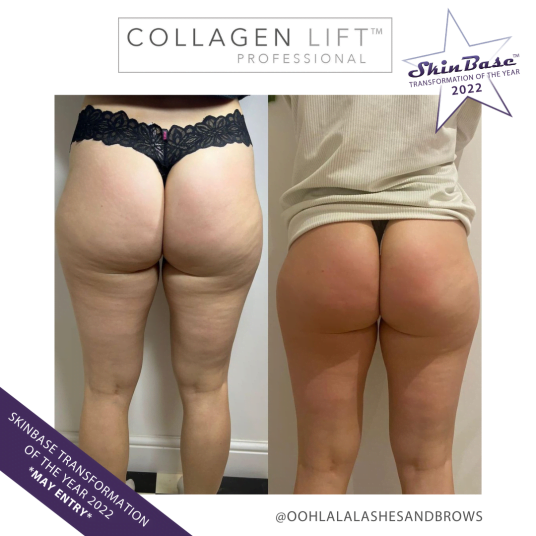 Ooh La La Lash and Brow Studio
6 Treatment Course of Collagen Lift
A fantastic Collagen Lift entry from Ooh La La Lash and Brow Studio shows how the treatment can benefit the body and not just the face. The client is so pleased with her SkinBase Transformation, here's what she had to say:
"Wow! What can I say! I'm so happy and amazed by my results from my collagen lift. I was, prior to my appointment, a bit sceptical but since having my course I'm so pleased. I feel so confident and can't wait to get in my bikini soon! Thank you so much to the girls at Ooh La La I love my new lifted bum."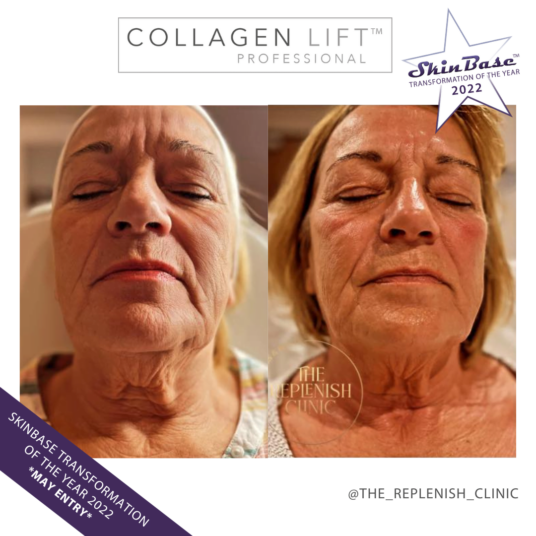 The Replenish Clinic has entered this brilliant Collagen Lift before and after, which shows how the treatment lifts, tones, and contours. The client was very impressed with her SkinBase therapist as she was professional and compassionate throughout the treatment. She is also incredibly pleased with her results, as her skin is now firmer, lifted, regenerated, and hydrated. 
If you want to transform clients like these salons, then become a SkinBase therapist now. If you are already a SkinBase therapist, find out about the other treatments we offer now!