July has arrived with the 7th round of the SkinBase Transformation of the Year competition. Our SkinBase therapists are transforming their clients just in time for summer and battling to become finalists in December. The Caribbean holiday looks extra enticing as the heatwave sweeps the country. Become a SkinBase Therapist now and you could be the one jetting off in December! SkinBase microdermabrasion transformations have been popular this month.
Microdermabrasion Transformations
Clients are finishing their Microdermabrasion courses and perfecting their skin for their holidays. The SkinBase Microdermabrasion treatment improves clients' complexions by safely buffing away the top layer of skin and dead cells with crystals. A mild suction vacuum then draws any remaining debris away, revealing the fresher skin underneath. You can find more information about the SkinBase Microdermabrasion machine here. Let's take a look at the July entries so far. 
Bella Vita Beauty Salon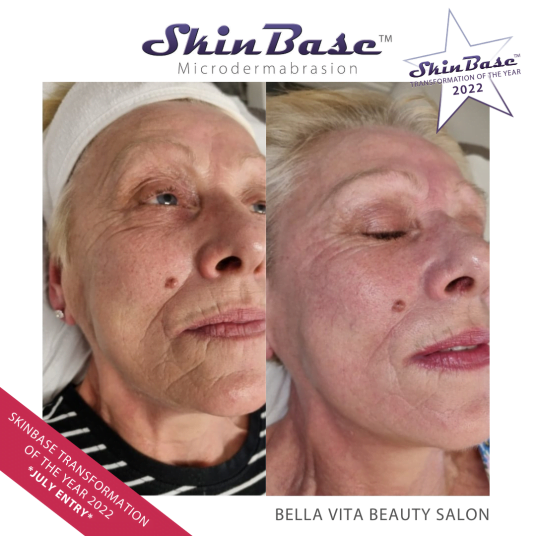 Vikki's client had a six-session course of Microdermabrasion to achieve these fantastic results. Many ageing people desire a skin boost to ensure their reflection matches how they feel inside, so they are the perfect Microdermabrasion client. Invasive surgical procedures are not necessary to increase client confidence and rejuvenate their skin. With SkinBase, you can achieve brighter skin for clients with no chemicals and no recovery time. As you can see, the client's fine lines around her mouth and eyes are smoother and minimised. Her skin is plump, and her wrinkles reduced, giving her a more youthful glow. If you would like to make skin glow, become a SkinBase therapist now. 
Riverbed Aesthetics
6 x Microdermabrasion Treatments 
For July, we have another brilliant Microdermabrasion transformation from Chelsea at Riverbed Aesthetics. The concerns she was treating were dull skin, fine lines, and wrinkles. With six treatments of Microdermabrasion she has totally transformed her client's skin. Evidently, the complexion is more even, and the client has a SkinBase glow. Her skin is softer and smoother, with reduced fine lines, and she is delighted with the results. You can also treat skincare concerns with the SkinBase Microdermabrasion Machine. All skin types and tones can benefit from the SkinBase Facial, find out more about our two week free trial here. 
Collagen Lift
Microdermabrasion is not the only SkinBase treatment getting clients ready for summer. Check out these astonishing Collagen Lift results from Modern Alchemy Beauty.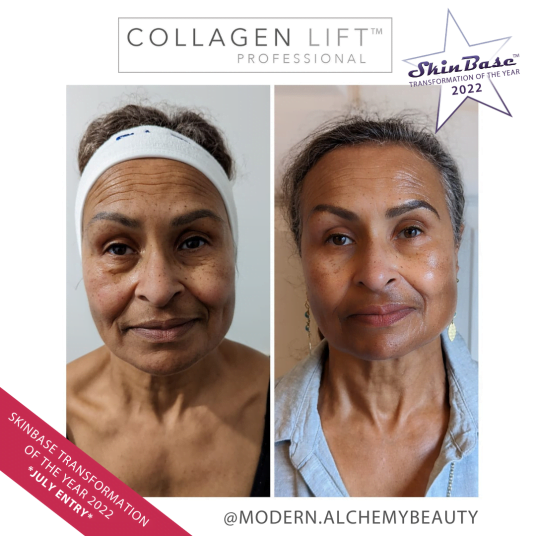 Before the course of Collagen Lift, Lian's client had zero confidence, barely left the house, and was feeling old and tired. A combination of chemotherapy and menopause turned the woman in the mirror into a stranger, and she wanted to find herself again. After six treatments of Collagen Lift she feels she has discovered a time machine. Her skin is glowing, and the treatment has turned back the clock on her skin. She now feels comfortable going out with her friends again and has had such a confidence boost. Likewise, her SkinBase therapist Sian is thrilled with the results. She loves having the ability to change lives with the Collagen Lift treatment.
If you would also like to transform skin with the SkinBase Collagen Lift Machine, find out more here. Don't wait – demand is incredibly high.