VOTING OPEN FOR MARCH ENTRIES
It's time to vote for the public choice! Our voting post is now live on the Facebook page with our March transformation of the year entries. Head over to vote for your favourite transformations this month. One lucky client and their therapist will each receive £500 in John Lewis vouchers. Additionally, the Public Choice winner will be shortlisted for the Skinbase Transformation of the Year award in December.
THERAPIST CHOICE AWARD
Our SkinBase therapists will also be voting for their favourite in our private Facebook group to decide who gets the therapist vote this month to win the Therapist Choice Award. There are still plenty more chances to win this year; become a therapist now, and start a transformation!
MARCH ENTRIES
There have been some fantastic entries to the competition this month, with so many amazing transformations from courses of Microdermabrasion, Collagen Lift, and Intense Pulsed Light. 
@MORGANSBEAUTYTHERAPY – COLLAGEN LIFT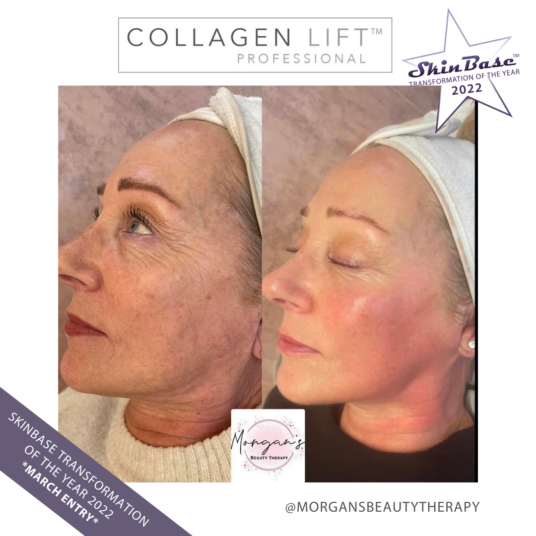 Morgan from Morgan's Beauty Therapy submitted this incredible result from a course of 6 SkinBase Collagen Lift treatments! Her 57-year-old client was concerned about pigmentation and deep lines around her eyes due to sun damage. Morgan's client is thrilled with the results; she smiles more and has had a real boost of confidence! To maintain the brilliant transformation, she is going to have Collagen Lift top-up sessions. MD courses are a great way to build lasting client relationships!
@GEORGIEESCAPE – MICRODERMABRASION
Georgina at Escape Beauty Therapy submitted her client's Microdermabrasion transformation after a course of six sessions. As you can see, the Microdermabrasion process has exfoliated the skin and abraded away dead cells. The client is incredibly happy with the results. Her complexion is brighter, her acne reduced, and her skin is smoother. Want to achieve the same incredible results for your client? Become a therapist now.
@B_AESTHETICALLYPLEASINGHEYWOOD – INTENSE PULSED LIGHT
During a consultation, Shelley and her client decided on a course of Intense Pulsed Light facials. The client was concerned about the texture, firmness, and appearance of her skin. Now, she is so happy with the results, saying: "I can see such an improvement, and I've been feeling much more confident in my firmer, clearer, brighter skin." IPL is such a rewarding treatment to offer as you can meet varying client needs – from hair removal to acne.
@LAURENELISHABEAUTY – MICRODERMABRASION
Another Microdermabrasion entry for March, showing why this treatment has won Best Advanced Treatment twice! Lauren's client wanted to brighten up her skin after it had been dulled by winter. So, she had an eight week MD course. She is incredibly impressed by the results, noting that her skin was brighter after just the first treatment! After the last, she could see and feel a difference, saying: "the fine lines around my eyes had minimised drastically and it gave me a confidence boost." Try the award winning treatment for yourself with a free trial!
@OOHLALALASHESANDBROWS – COLLAGEN LIFT
These incredible results show why Collagen Lift is an increasingly popular treatment for all of the body, not just the face! Lucy at Ooh La La Lash & Brow studio recommended the CL treatment to her client, who was conscious of the loose skin on her stomach. Lucy's client is thrilled with the results. She can't wait to wear a bikini on her holiday! She said: "For anyone trying to decide if to give it a go or not, doing the course of 6 was the best decision I've made. I will definitely do the collagen lift maintenance as recommended." Become a therapist now, and see for yourself how Collagen Lift boosts client confidence.