May is ending, all the competition entries are in, and the vote is in its final hours. If you haven't entered this month – what are you waiting for? Complete a course of SkinBase Microdermabrasion, Collagen Lift, or IPL now! If you're not a SkinBase Therapist, you can still get involved by voting for your favourite transformation in the public vote over on our Facebook page. Want to take it one step further? Become a SkinBase therapist now to enter your own transformations! Let's take a look at who is in the lead right now.
Beauty By Lauren Turner
Currently in 1st place is Beauty By Lauren Turner with an incredible Collagen Lift transformation. The SkinBase Collagen Lift treatment is great for boosting the confidence of clients as you can use it on the face and body. With over 100 votes, clearly the public love how the Collagen Lift has tightened the skin on the thighs and toned and lifted the bottom. If you also love the results, and want to do some Collagen Lift transformations of your own – get in touch now. The client no longer feels self conscious and is now excited to wear a bikini on her holidays. Head over to the Facebook page before 8pm on Monday and give the picture a like if this entry is your winner. Both Lauren and her client are so close to winning £500 each in retail vouchers. They're also almost one step closer to winning the grand prize – a SkinBase holiday to the Caribbean.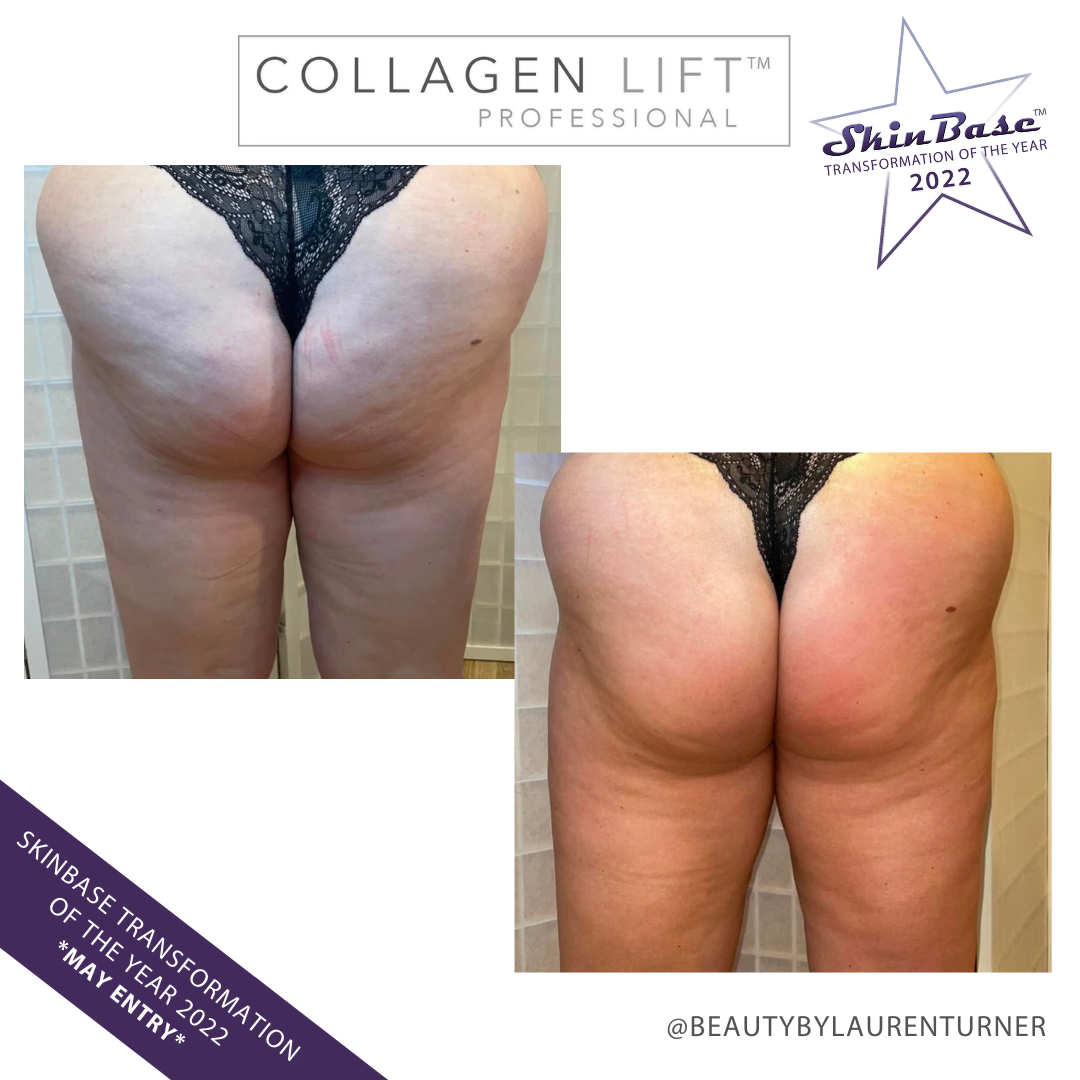 Estheva Clinic
In second place is Estheva Clinic with another Collagen Lift transformation. Keep showing your support on the SkinBase Facebook Page and the SkinBase Therapist Group. Don't forget that you decide who wins each month and gets to the final in December – use your power now! If you want to be in with a chance of winning, enter your fabulous results from client courses now. Andrea's client had 4 Collagen Lift treatments on her face and neck. After just turning 50, she felt her face looked old and tired, and her confidence was low. The results are so impressive, and the entry has over 80 likes. Her skin looks tightened and smoother, and her face and neck rejuvenated. There is still time to vote if this is your winner, so go and like it now.
N2G
Following closely behind in third place is N2G with a treatment combination of Collagen Lift and Microdermabrasion. If this is your favourite transformation – don't forget to vote. There is still time for anything to happen. Emma is blown away by the outcome. The affects of ageing and navigating menopause pushed her to start weekly Microdermabrasion treatments, followed by a couple of sessions of Collagen Lift. She had 4 MD treatments and 3 CL treatments and achieved fantastic results. Do you want to offer multiple SkinBase treatment options? Get in touch now. Her skin is glowing, and her face is lifted brighter and tightened. She loves how subtle and natural the results are, and so do the public, with over 70 people voting for this entry.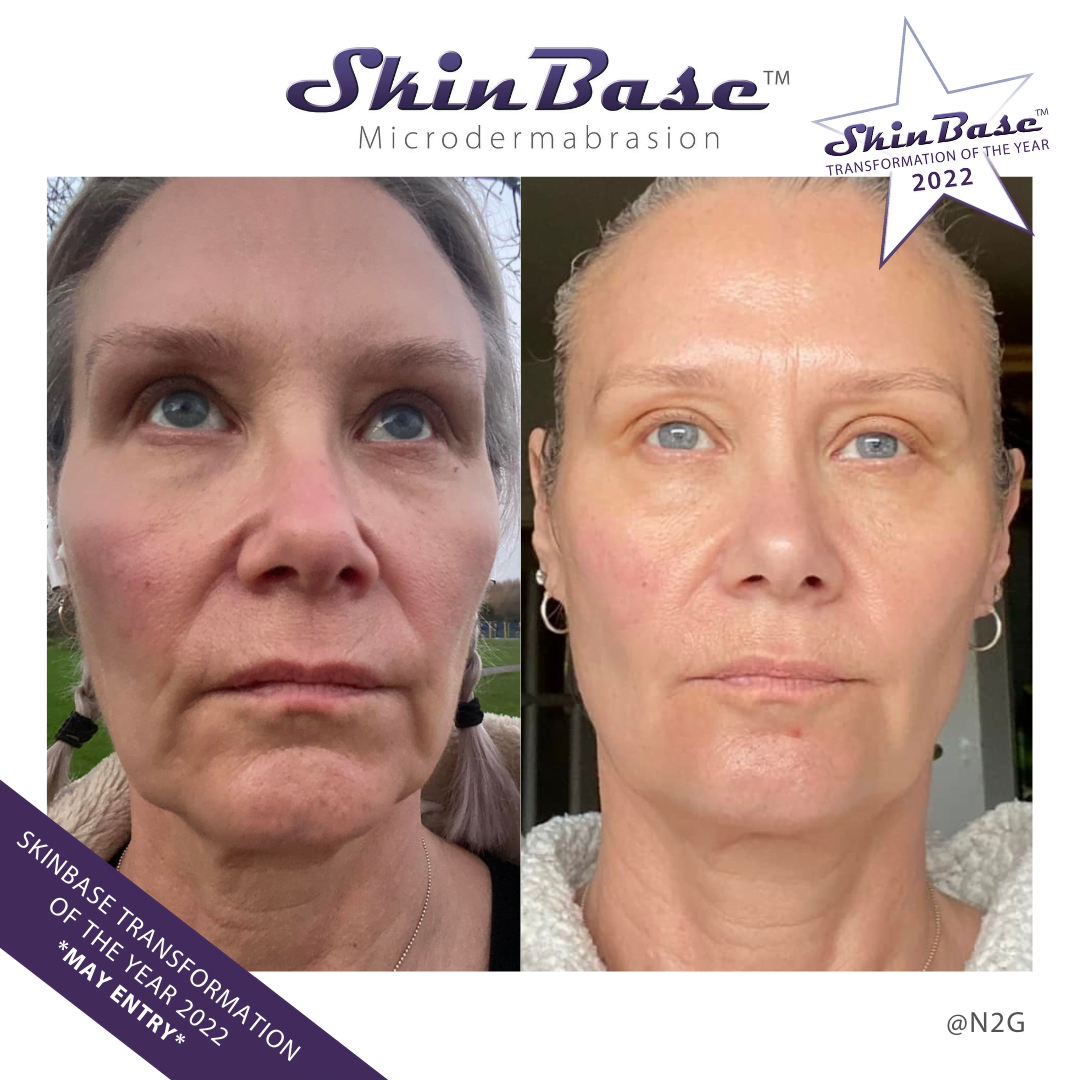 Beauty by Lauren Turner, Estheva Clinic, and N2G are currently taking the top three spots for the Public Vote for May. To support their entries or pick a different favourite, head over to Facebook and vote – before it is too late! If you are not yet a SkinBase therapist and want to get involved with the Transformation of the Year 2022 competition, become one now!