We've had some more fabulous June entries this week for the SkinBase Transformation of The Year competition, so it is time for a roundup. Our SkinBase therapists have been transforming clients' skin in time for summer, and sharing their excellent results with us. Collagen Lift has been very popular this week as clients lift, tone and contour their beach bodies! You can do the same for your clients by becoming a SkinBase therapist now. Let's see those transformations.
June Transformations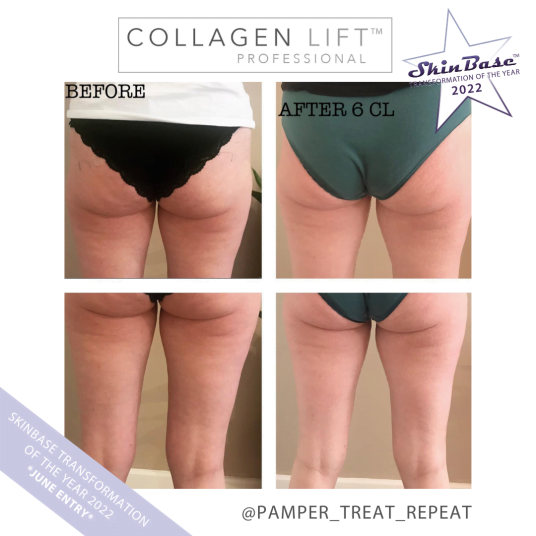 Pamper Treat Repeat
6 x Collagen Lift
Up first is this excellent Collagen Lift transformation from Pamper Treat Repeat. The SkinBase Collagen Lift treatment is not just a great facial; the treatment is excellent on the body too as skin is tightened and fatty deposits drain away. Hollie's client was looking for a confidence boost after reaching her late 40's and dealing with peri menopause. Though she had been eating healthily and exercising regularly, she was not seeing results to gain the confidence she wanted.
After a six treatment course of Collagen Lift on her thighs and bum, the client's skin is visibly smoother, tighter and more toned. She looks and feels more youthful and has gained the confidence she was seeking. She can't wait to break out the bikini on her holiday this summer! If you want to boost your clients' confidence before bikini season, find out more about Collagen Lift here.
"My skin has changed from being red and painful to being clear and glowing." 
An excellent quote from the client who achieved these fabulous results after a 6 treatment course of Microdermabrasion. After suffering for years with acne, he had very inflamed, red skin and bad scarring. As a result of numerous failed attempts to treat his skin he no longer had the motivation to invest in skincare as he never saw any visible improvements.
The SkinBase Microdermabrasion treatment was different, and noticeable changes occurred after the very first session. This gave the client the motivation to develop a skincare routine to work alongside his treatments. He now has softer, smoother skin with less visible scarring and is incredibly happy. He consistently does his skin care routine everyday and is now much more confident. You could change your clients' lives too with SkinBase Microdermabrasion.
The Hair and Beauty Gallery
6 x Collagen Lift Treatments
Delores at the Hair and Beauty Gallery entered this fabulous Collagen Lift face and neck transformation. Her client had a history of botox and fillers to treat her fine lines and wrinkles. She was unhappy with how quickly the results would wear off, and the invasive nature of the treatments so was looking for other options. When her hairdresser told her about the SkinBase Collagen Lift treatment she decided to give it a go, but had low expectations.
The client was blown away with her results, and very happy that she had not put any chemicals into her body. After just the second Collagen Lift, she noticed a dramatic difference in her skin and it just continued to improve with every treatment. She recommends the treat to everyone looking for a non inverse approach to keeping skin youthful. If you want to treat your clients with a non-invasive treatment, become a therapist now!
Beauty by Lisa Brown
10 x Microdermabrasion Treatments
"To say my skin journey has been long and arduous is an understatement. I've been on and off antibiotics to treat my adult acne for the past five years, been prescribed ointments and medication left,right and centre from the GP, had appointments with Dermatologists as well as Allergy specialists, spent an absolute fortune on skin products (hoping I would find that one wonder product and/or range that would help me) and then, someone suggests Microdermabrasion.
Having tried everything else (did I mention I even tried laser treatments at one point?) I thought what the heck, let's give it a go and BOOM! Ten weeks later, my skin is almost completely acne free and is as soft as a babies bottom! Im totally amazed by the results. I genuinely didn't think I would find anything that could help me having lived with adult acne for so long. The photos totally speak for themselves and microdermabrasion is now very much part of my skin care maintenance. I would encourage anyone living with adult acne to give this a go!'.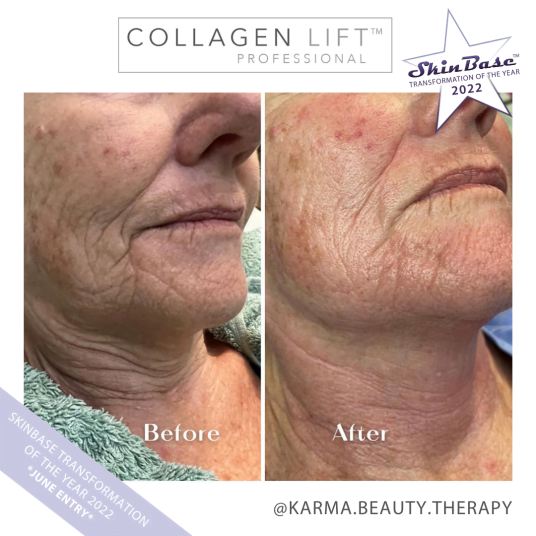 Karma Beauty Therapy
6 x Collagen Lift
To end the entry recap is another fantastic Collagen Lift June transformation from Nina at Karma Beauty Therapy. Her client had a course of 6 treatments and was very happy with her results. The client liked that the clinic was welcoming and comfortable so she was at ease while her SkinBase therapist explained everything.
Due to the excellent consultation, the client understands how the Collagen Lift treatment works within her skin and knows results may be seen for up to two years with proper maintenance. She enjoyed the actual procedure as it was non invasive and pain free, as the warmth was very pleasant. If you want to offer Collagen Lift treatments, find out more now.