Entries for the SkinBase Transformation Of The Year Competition have been flying in this week as therapists give their clients' a summer glow. Everybody wants to be in with a chance of winning the prizes, especially the Caribbean Holiday. We've had an influx of facial and body transformations from our SkinBase Therapists, so we have lots of their fabulous before and after images to show. If you are inspired by any of the treatments below, check out the SkinBase website here to become a therapist.
Ruby and Radient
4 x Microdermabrasion Facial Treatments
Our first Microdermabrasion facial transformation shows how fresh a course of MD can leave clients' skin. Angela's client was looking for some TLC on her skin, and they certainly achieved it. The client is so impressed with her changes, and particularly loved the special care and attention she received from her SkinBase therapist. Her fine lines are less visible, and her skin has a SkinBase glow. If you're interested in performing the Award-Winning SkinBase Microdermabrasion in your business, find out more here.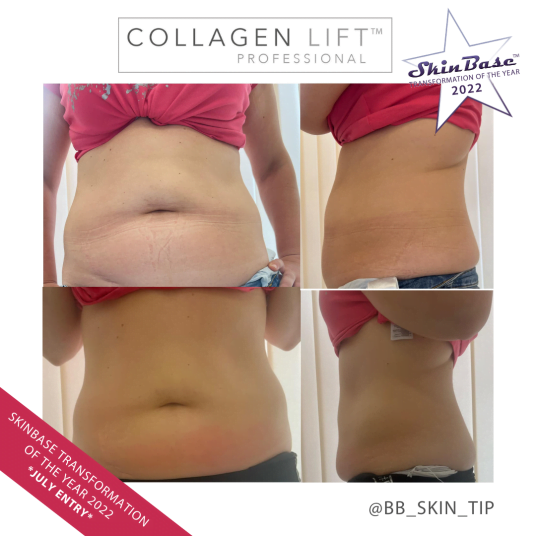 Skin Tip
Collagen Lift Body Transformation
SkinBase therapist Beatrice, at Skin Tip, treated her client with Collagen Lift to improve the appearance of an old scar. Her client is blown away with the fabulous results they have achieved together. As you can see, her skin is smoother, her scar is less visible, and the firming effect of the Collagen Lift treatment has reduced inches around her waist. The skin transformation has encouraged her to improve her overall appearance and lifestyle. Healthy changes will ensure she gets the best skincare results possible. If you want to help your clients and be a part of their skincare transformation, become a therapist now.
Serenity Health and Beauty
6 x IPL Hair Reduction Treatments
A brilliant example of SkinBase IPL Hair Reduction on the extended bikini area. The client had six sessions spread over six months, and did not shave before the after picture was taken. Here's what she had to say:
"I am absolutely over the moon with the results of my IPL. I used to get my bikini line waxed every six weeks at Serenity and shaved my underarms. I've now had 6 sessions of IPL on my bikini line and underarms, the results are amazing. I've noticed that I'm not getting ingrown hairs any more and the treated areas are really smooth with very minimal hair growth. I find the IPL sessions painless and Marianne always makes me feel comfortable and at ease, I enjoy catching up with her during the sessions. I wish I had got IPL years ago, it's amazing not having to shave my underarms every couple of days or keep up with waxing."
If you want to step away from traditional methods of hair removal in your business, find out how IPL could work for you here. After training in IPL Hair, you can also extend your skills with IPL Advanced treatments. This will allow you to treat skin concerns such as acne, pigmentation, and rosacea. SkinBase is a path to perfect skin for your clients, and you could be the one providing face and body transformations. Find out more.
Beauty Hub Flitwick
Microdermabrasion Facial Transformation
The fantastic before and after images were taken just halfway through a 6 treatment course of Microdermabrasion. The client wanted an anti-ageing treatment that would minimise her fine lines. She is so impressed with her results already, and can't wait for her weekly relaxing treatments in the future.
She loved the feeling as the tiny Microdermabrasion crystals whisked away the dead skin cells on her face and the suction revealed the youthful skin below. Her skin looks and feels supple and younger, and her lines are less pronounced. Her husband is so impressed with the results that he's having his own treatments too.
If you want to change clients skin too, find out more about our 2 week free trial of Microdermabrasion here. You could earn up to £1000 before paying a single penny.
Beauty by Lauren Turner
6 x Collagen Lift Face and Neck Treatments
Lauren's client was dealing with her skin changing due to hormones and ageing, and wanted a refreshing treatment that would boost her confidence. The Collagen Lift treatment feels similar to a hot stones massage, so it is the perfect skincare treat.
She is delighted with the results she has achieved. The collagen has plumped her cheeks and minimised her fine lines for a youthful glow. She is so happy she is going to have Collagen Lift body treatments with Lauren too.
If you want to introduce Collagen Lift to your clients, enquire now.