The SkinBase Transformation competition is almost over for June, but there's still enough time to enter your client if you're quick. Show us how you are rejuvenating your client's skin now. You could win a coveted SkinBase award, £500 in retail vouchers, and an incredible Caribbean holiday. Let's take a look at 5 incredible Collagen Lift transformations from June to see what you're up against.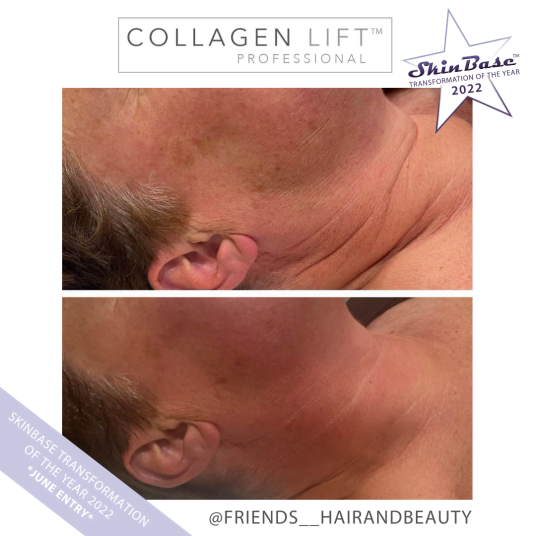 Friends Hair and Beauty
6 x Collagen Lift
This fantastic Collagen Lift transformation is from Jacqueline at Friends Hair and Beauty, who treated her client's neck with a course of 6 treatments. The client is so pleased with the results, and has received lots of compliments due to the natural rejuvenation of her neck. As you can see, her skin is smoother, tighter, and lifted. Monthly maintenance sessions will prolong the transformation, and her skin will remain fresh and boosted. If you are also rejuvenating clients skin, upload your before and after images to the SkinBase Therapist Group with the relevant information to enter the competition.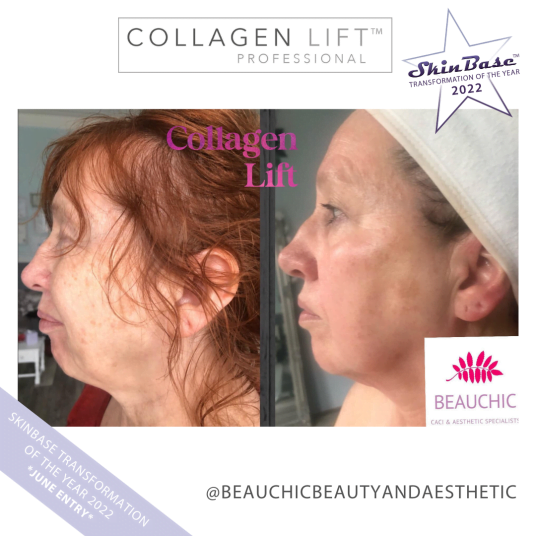 "My skin looks and feels amazing…"
Beau Chic Beauty and Aesthetics
6 x Collagen Lift Treatments
Leanne at Beau Chic Beauty and Aesthetics achieved these truly amazing results for her client with a 6 session course of Collagen Lift. The client is so impressed with her results, and feels like a different person. Both her face and neck have been visibly lifted and toned, and her age spots have reduced dramatically. Her skin feels as amazing as it looks, and she is shocked at the difference on her neck. She thinks the treatment and her SkinBase therapist are amazing, and is so happy with her Collagen Lift transformation. If you're not a SkinBase therapist and you want to get involved, become one now!
Aesthetica Skin
6 x Collagen Lift Treatments
Such an incredible Collagen Lift Transformation – the picture speaks for itself. Find out more about Collagen Lift here.
Pamper Treat Repeat
6 x Collagen Lift Treatments and Maintenance
Hollie's client had 6 Collagen Lift treatments pre-covid, followed by maintenance sessions.  She recently had another course of 6 treatments as an additional boost, as she had lost confidence since reaching her late 40s and menopause. Diet and exercise helped her a little, but she remained unconfident due to the laxity of her skin on her stomach. After her recent course, she feels much happier and more confident in her body as her skin looks smoother, tighter, and more toned. She can't wait to break out the bikini once she heads off on her holiday. Get your clients bikini ready with SkinBase Collagen Lift transformation.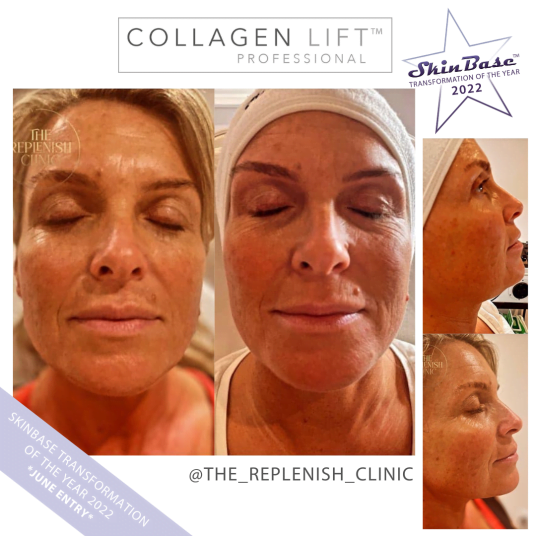 The Replenish Clinic
6 x Collagen Lift Treatments
"I truly cannot recommend the replenish clinic enough. I've had the collagen lift on the lower part of my face. The results are amazing. Fewer fine lines, and I actually have a jaw line! Thank you so much for making my skin look younger and fresher. Even my husband commented how great the treatment is!"